Explore

DONATE TO YOUR WEEKLY WISH

Alley was abandoned and tied up, unable to save the lives of her puppies. she now needs...
---
Videos

National Brittany Rescue and Adoption Network
Our Mission:
National Brittany Rescue & Adoption Network (NBRAN) is an alliance of dedicated Brittany rescue volunteers who share a deep love for the breed and who will work to rescue, rehabilitate and re-home Brittanys in need, whether abandoned, lost, stray or surrendered to rescue for placement. As volunteers united in a common cause, we are committed to the care of these dogs in foster homes, and providing for their physical and emotional needs. We are committed in our endeavor to help them with all the resources we have available.
We pledge to maintain a community of volunteers who treat each other, and the dogs they rescue, with respect, courtesy, kindness and love. We will seek always to lend encouragement and to support one another, and to facilitate friendly collaboration and cooperation between our volunteers. We believe that by building a supportive, dog-centered organization founded on respect, honesty and integrity, we will always remain focused on the welfare of the Brittanys entrusted to our care and hold their interests uppermost in our hearts and minds. Our mission is to place these dogs in safe, loving and permanent homes with approved applicants, and to provide a supportive network for our volunteers, who after all, make our goals possible
Heart Worm and Nutritional treatment for Timmy
Timmy
is a Brittany-Setter mix who was found as a stray in
Hugo, OK.
He was starving and NBRAN was contacted. The OK NBRAN coordinator arranged for a volunteer to get him immediately to the local vet. We had to act really fast to get a volunteer to drive to where he was get him to the vet before they closed for the day as he looked to be on the brink of starvation! The vet kept him for 3 days to stabilize him get some food into him. His white blood cell count was high, so they waited a couple of days before giving the immunizations. They took very good care of him at that vet and he was then transferred to a foster home in AR.
The foster in AR took Timmy to her vet where they confirmed he is
heart worm positive but it is not severe. However, he does also have a significant heart murmur, so NBRAN will need to get him up to a good weight before we do the heart worm treatment. It is risky, but the vets thinks he can undergo the treatment successfully. NBRAN is treating his eyes topically and we are also treating the skin problem on his nose. The vet wants to see if the skin on his nose clears up with topical treatment. He also has another skin lesion which he is getting treatment for. They will investigate the skin issues more thoroughly in the next few days. The first priority is to get some weight on him, so his foster is feeding him high-quality food with puppy food added for additional calories. He is being fed several times a day given lots of TLC.
At this point, NBRAN is cautiously optimistic about his health, but we will have him in foster care for awhile until we get him healthy. And Timmy has a long road and many medical bills facing him....
We could really use your help to get Timmy back on his feet. Any donation is welcome. Thank you!

UPDATES (5)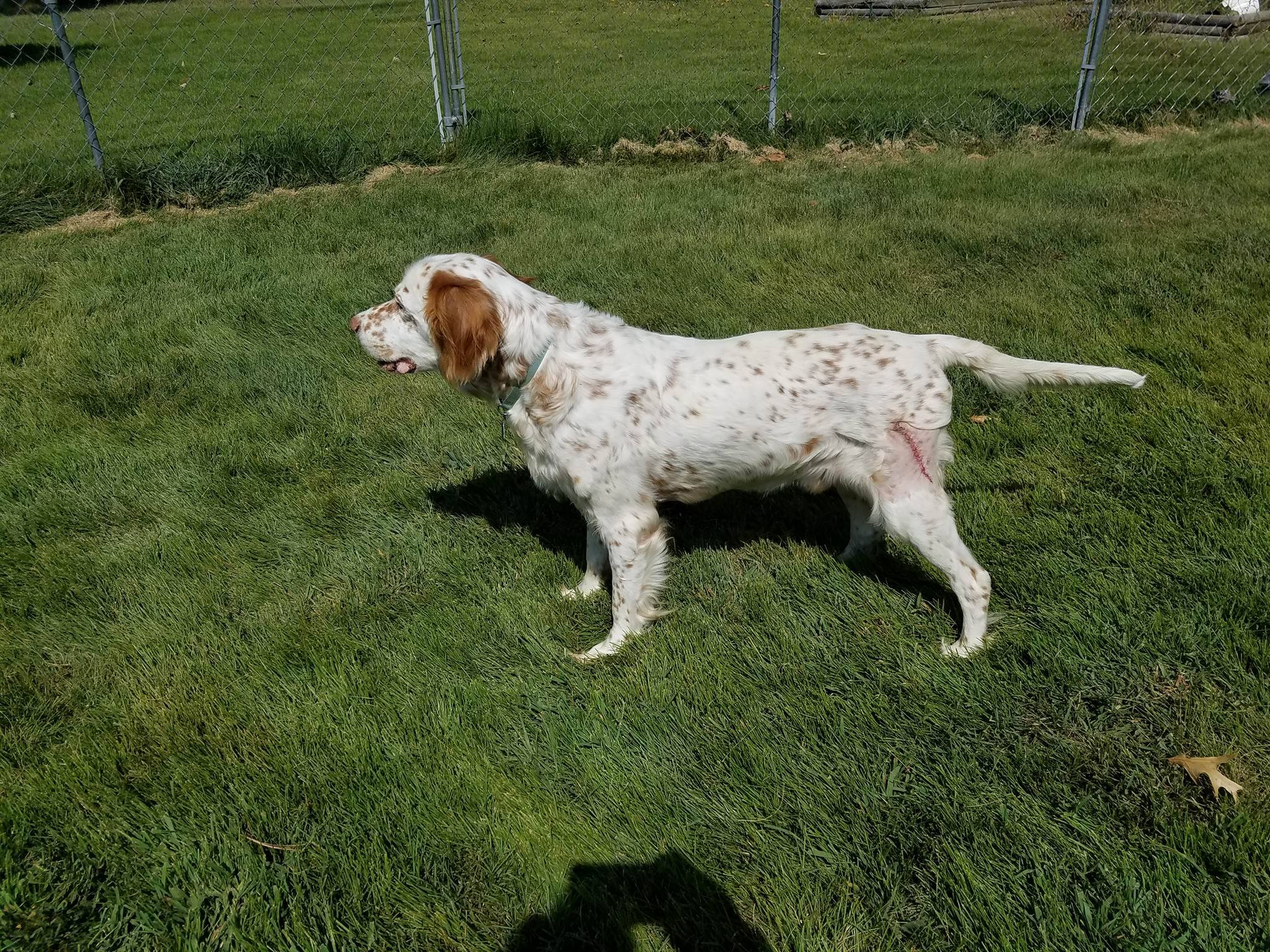 Posted on September 10, 2017
It's been a while since we've posted an update on Timmy but he has finally finished his heart worm treatment and he's gained a good amount of weight and he's holding his own.....however....poor Timmy can't catch a break and he had to have a very large mass removed from his hip this week. It has been sent off for biopsy and we hope to hear the results by the end of this week. PLEASE keep Timmy in your thoughts and prayers. This poor boy has been through so much. Thank you!
---
Posted on July 05, 2017
Hi! Timmy here. I just started my heart worm treatment and I wanted to let you all know that I'm doing GREAT! Here is a photo of me waiting to see the doctor. The vet is going slow and only doing one injection at a time because of my heart murmur but that's okay because foster mom gives me a piece of steak every time I have to go to my crate (which is EVERY time after a potty break because I have to be on crate rest for a couple of months until those nasty worms are all gone!). I didn't mind the injection....they are usually quite painful but I'm a trooper! I just go with the flow because life is so much better since NBRAN found me! Thank you so much for your support and your love.

---
Posted on June 14, 2017

Great update on Timmy!

Timmy went to the vet yesterday for a weigh in and check up. We are happy to report he has now gained 15 lbs!!

This is great news because it means he is almost at his ideal weight to start the long and expensive treatment for heart worm disease. He is scheduled to start treatment on June 28th as long as he maintains his weight. And more good news....his heart murmur is only rated at a 1.5 (quite low) and the Dr tested the pressure in his eye that was treated for a quite bad infection and it was normal!! Yay Timmy!

Timmy still has a long way to go to be healthy and NBRAN could sure use your help with his vet bills and for the many other dogs we currently have in care.
---
Posted on June 04, 2017
UPDATE : Here are some photos of little Timmy smiling. He's smiling because he's feeling so much better! The fungus on his nose is getting better with the medication and his eyes are clearing up nicely! As you can see his mobility has greatly improved. Timmy is now eating his recommended 6 cups of premium food (plus snacks) every day and hopefully this will mean he'll weigh enough soon to be neutered and to start the long and scary process of heart worm treatment. Timmy still has a LONG way to go but with your help we can get him there!
---
Posted on May 27, 2017
Good news! Timmy is starting to feel a bit better and is eating well. The vet advised his foster mom to feed him 6 cups of food a day and he is now up to 5 cups (spread out over several times a day) of high quality kibble mixed with puppy food to get some meat on his bones. He is still so thin that his foster mom can't brush out the mats in his coat for fear of hurting him.
Timmy is still not sure footed and is quite frail. He will lean his head and body against people to try to stand up to be close to people. He is taking a K9 Plus vitamin daily to boost his energy as well as Doxycycline to kill the bacteria from his heart worms, and he is being treated for hook worms. Poor boy. He will need to gain a substantial amount of weight before NBRAN can treat his heart worms and have him neutered.
Timmy seems to have some sort of fungal infection on his nose so he's being treated topically with micronosal spray. Foster mom says he doesn't like it much and when he sees her coming with it he tries to tippy-toe away from her...but it's for his own good.
Even though he is improving Timmy still has LONG road to recovery and NBRAN is facing many medical bills for him and for several other dogs in foster care like Bentley in Texas. Without your generous donations we wouldn't be able to help dogs like Timmy who have been abandoned and neglected. Every donation helps! Thank you.
Sorry! Something went wrong. Request can not be accepted.