Explore

DONATE TO YOUR WEEKLY WISH

Prai is fighting to full recovery. help us help her in this journey.
---
EskieHouse Heartbandits American Eskimo Dog Rescue
Eskie House was founded in 1999 and takes in American Eskimo Dogs from shelters and families that can no longer care for them. We work at socializing them with other dogs and humans, address any medical needs, spay or neuter if needed and then find them new homes/families.
~ takes in American Eskimo Dog
from concerned citizens who have found them as strays.
~ assists American Eskimo Dogs
whose owners can no longer provide a permanent home by finding them new permanent and loving homes

General Information:
Heart Bandits is a nonprofit federally tax-exempt 501(c)3 organization with chapters across the USA and Canada. Our Chapter Directors, Foster Homes, Officers, and Trustees are all volunteers. We are not shelters with visiting hours. Our rescue efforts are managed out of our own homes.

Amputation surgery of her left rear leg
Fannie was found in a crate together with Frosty full of crap and piss and it was embedded into their matted fur. They also were infested with fleas and ticks Her left rear leg (bottom half) was traumatically removed from the rest of the leg. They say she was in severe pain when it happened and it is still tender.
Fannie is about 6 years old she has a sweet disposition considering the trauma she has been put through.

UPDATES (5)
Posted on June 21, 2017
Hi all you fur lovers out there Fannie here sporting my last new t-shirt it has a picture of Dora the Explorer so today I'm an explorer enjoying the sun today. I have to wear my t-shirts it protects me from getting sunburned. Can you please share my story with everyone to help me get my surgery Eskiehouse really needs help with this. They take great care of all us Reskies here and it takes this green stuff Auntie Pat calls money I guess our food and meds and all the flea and tick stuff requires that.
RESKIE POWER!!!
---
Posted on June 20, 2017
Hi all Fannie here I'm loving the sun and the shade today with Auntie Pat, Tacia, and Lana. My new t-shirt says "Much Aloha" so I'm going Hawiian today. I have to wear t-shirts to keep me from getting a sunburn.
Oh Auntie Pat says I'm going to have my surgery Tuesday June the 27th, so please share me and let everyone k ow to donate for my cause. Thank you so much to all that have donated you are all so fur-awesome.
RESKIE POWER!!!!
---
Posted on June 19, 2017
Hi everyone Fannie here sporting my new t-shirt I'm patriotic today and it has an American flag. I sure do like my t-shirts it protects me from getting sunburned since I had to get shaved done to the skin and that means I have no protection of my own. Auntie Pat says with the actual donations and the promises of funds we have over 1/2 the funds needed to get my surgery. So tomorrow she is going to take Hayla (our new reskie) to get her heart worming tested gotta make sure there are no worms in her heart I guess, and while she's there she's gonna schedule my surgery. YIPPEE! I am nervous and excited at the same time. I really do like all this good attention I'm getting here and Auntie Pat says I'm special among us specials cause Reskies are special and I am cause I have a bad leg and their gonna make it all better for me and then someone special is going to adopt me. She says she don't know who yet but only special people are able to adopt me. She told me just lime the special family that adopted Bernie there is a special family for me and I won't ever be hurt again. Wow she makes it sound so grand and I can't wait. Please help with my surgery.
RESKIE POWER Forever!!

---
Posted on June 16, 2017
Hi all you fur baby livers out there Fannie here I want thank all of you that has donated already. I'm really nervous and excited at the same time about my upcoming surgery but Auntie Pat says it'll make me feel better. Yesterday Frosty and I got to meet some of the other Reskies here and play in the back yard. It was so fun to run and roll in the grass I forgot what that was like. I'm told until Auntie Pat gets me a t shirt I can't be outside too long cause since I had to be shaved I have no protection from the sun and heat. But that grass sure does feel good to roll in.
Please share my story and help me get my surgery so I can be pain free. They are so good to me and they make sure I have food to eat and a nice bed to sleep on. I like their motor too
RESKIE POWER!!!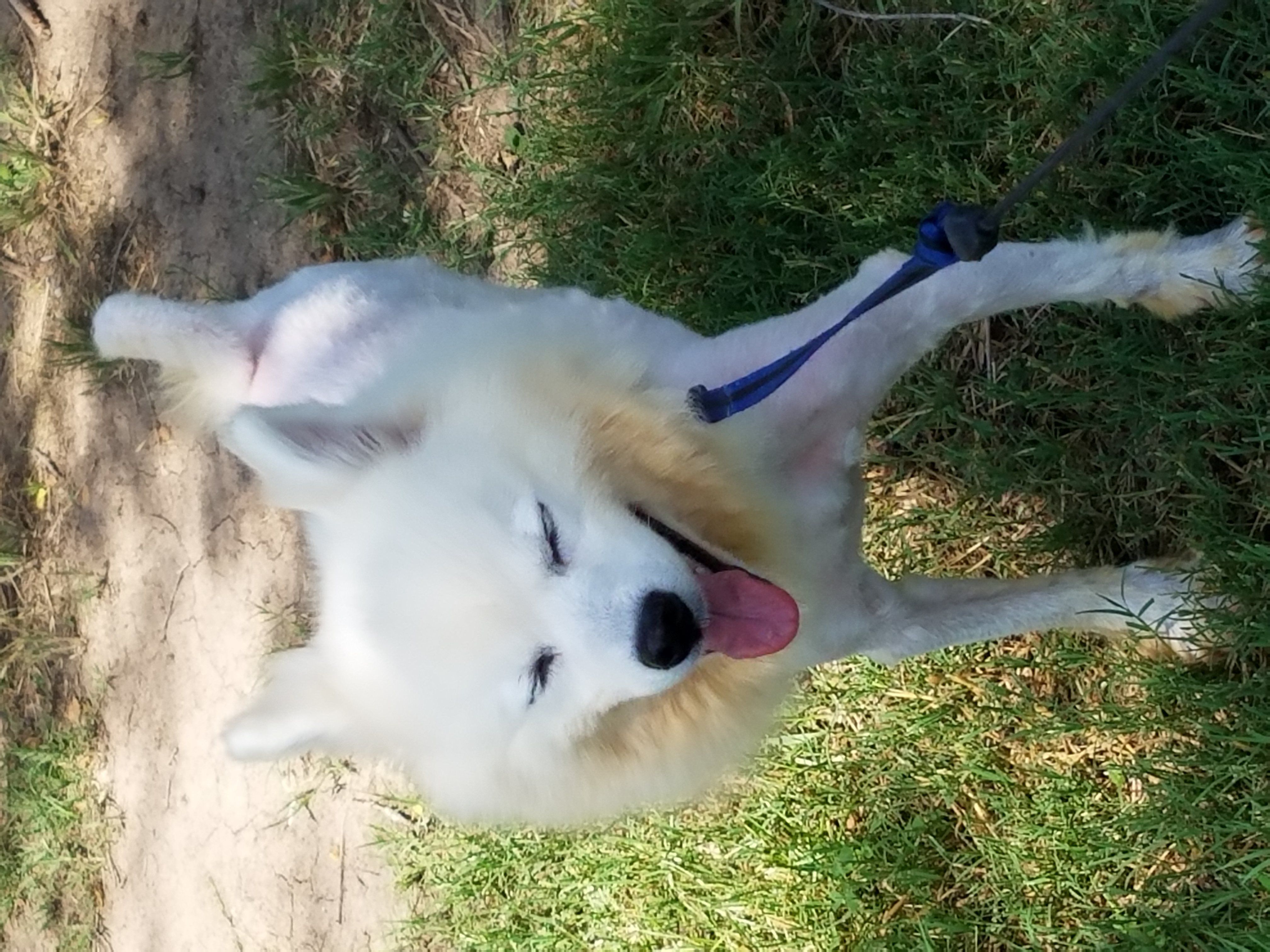 ---
Posted on June 16, 2017
Fannie is debating weather to join the fun of playing or just watch Nanook and Hazel.
Sorry! Something went wrong. Request can not be accepted.