Explore

DONATE TO YOUR WEEKLY WISH

Alley was abandoned and tied up, unable to save the lives of her puppies. she now needs...
---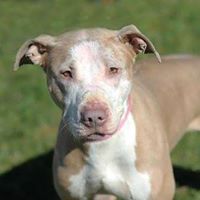 Humane Society of Midland County
The Humane Society of Midland County (HSoMC) is a 501c3 organization which operates the only animal shelter in Midland County. Services include adoption, animal intake, lost and found, microchipping, spay/neuter programs, youth program, volunteer opportunities and much more. HSoMC is dedicated to promoting the compassionate treatment of animals in our community and finding permanent loving homes for lost, unwanted and abandoned animals. The organization is locally supported and receives no state or municipal funding. It is managed by a director, with 4-5 part time staff and many caring volunteers.
Toe Reconstruction Surgery for Bernadette's painful paw
Color: Black and white
Size: Medium
Bernadette's life has forever changed since her paws have been declawed. She has regrowth which is causing her severe pain and making her feel angry. The pain can be controlled with powdered cosequin in her canned food and the Vet can do reconstructive surgery to repair her paw. This will eliminate the pain that is affecting her daily.
Although she was grumpy, she captured the hearts of a loving family who chose to adopt her. She was returned soon after, due to her becoming very aggressive in their home. It wasn't until after her adoption and return that we learned about her toe situation, so now it is clear why she has been so unhappy.
Bernadette is a 6 year old cat who arrived at HSoMC as a stray. She is still looking for her forever home, and would do best as a single pet in a home with older or no children at all. She will need a family who can be patient with her and understand that she may be moody at times. All cats/kittens are spayed/neutered, vaccinated, fiv/felv tested, and microchipped. Bernadette's adoption fee is only $10.00. We are sure that once she has her reconstructive surgery, she will feel better and get adopted right away.
The paw project will donate the surgery, but the appointments and additional costs will be around $1500 for us. We really want to make this happen for her! Please consider making a donation to ensure that Bernadette will have a better quality of life.

UPDATES (1)
Posted on August 25, 2017
Thank you to all of you have supported Bernadette! Bernadette is ready to have her surgery now, we will keep you all updated on her progress as she heals. Hopefully she will recover quickly and then she will be able to find a forever home.
Sorry! Something went wrong. Request can not be accepted.