Explore

DONATE TO YOUR WEEKLY WISH

Multiple surgeries needed to help mimi walk

$2,005.00/$4,000.00 Raised
---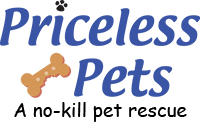 Priceless Pet Rescue
Priceless Pet Rescue is a private 501(c)3 nonprofit organization dedicated to stopping the killing of adoptable dogs and cats. Priceless Pets is leading the no-kill movement by energizing the public and maintaining comprehensive, innovative,life-saving programs designed to save the animals most likely to be euthanized in shelters.
In 2007, Priceless Pets embarked on the mission of saving one by one until there are none. Starting as a foster based rescue, Priceless Pets has grown over the years and now operates out of two storefront adoption centers known as The Orphanage.
Priceless Pets is dedicated to working tirelessly until our mission is complete.
Uganda needs your help...
Uganda is an adorable girl who from the Riverside Animal Shelter who was having trouble breathing when she went in to be spayed. It was obvious things were not right when could not handle the anesthesia, so she was rushed to our regular veterinarian for immediate care.
Upon being x-rayed, we realized that her organs were smashed up into her chest cavity. She will need immediate surgery to repair the organs and move them out of the chest to allow regular breathing. This surgery is an immediate surgery, so the cost will be extremely high. We are hoping to raise enough funds to help this girl, as she is truly racing against the clock to save her life.
Sorry! Something went wrong. Request can not be accepted.