Explore

DONATE TO YOUR WEEKLY WISH

Multiple surgeries needed to help mimi walk

$2,005.00/$4,000.00 Raised
Mimi's Mission: To walk properly and pain free
---
Multiple Surgeries Needed To Help MiMi Walk
Meet Mimi! She is a 2 year old aspiring Bulldog Princess. She was found abandoned by the road in southern Missouri. Mimi has a lot of trouble walking. Some of her front leg issues are congenital and some may be from an injury. What we know for sure is that Mimi is going to need some expert surgery to give her a quality of life. We have been fortunate to find a medical foster home with great experience in special needs and medical recovery cases, and Mimi is taking over the house! We have consulted with several orthopedic surgeons and have a meeting next week with the Bulldog Orthopedic Guru for a hands on evaluation.This is going to be an expensive process and may be several surgeries. Please consider donating to help Mimi.
UPDATES (5)
Posted on October 16, 2017
Mimi is still on bed rest, and is being spoiled with love by her foster family, who is taking very good care of her.

She is limping more now since she overdid things before the pain meds were done, but she is healing nicely. Mimi will definitely need at least 1 and probably 2 more surgeries, but we won't know for sure for 4 to 6 weeks to see if they are also going to have to pin her elbow.
Mimi continues to be an absolute joy to her foster family! The just love all of her silly faces and habits. One of their favorites is when she yawns, her absolutely adorable little snaggle tooth makes an appearance. ( Seen in photos) They look forward to this happening each time!
Mimi has overdone it a bit and is limping again and wishing she could have her pain medications back. We are looking into alternatives to keeping her more comfortable. Lucky for her her foster Dad loves to carry her around and with the baseball playoff happening they are spending a lot of time on the couch cheering on anyone but the Cubs.(sorry but she is a devoted Cardinals fan!)
We are raising Mimi's WISH amount to accommodate her upcoming surgery and pin removal. As soon as we find out if she will need a third surgery, we will update on that as well.

Right now, we want to thank everyone for their dedicated support toward Mimi and her Medical costs. If you can continue to help in anyway, we really really appreciate it. The goal is to get Mimi up and walking and able to play so that she can live the happy , pain free life she deserves.
---
Posted on October 11, 2017
We changed Mimi's bandages last night. No drainage as it aired out this time, so that's great news!
She was SOOO DONE w/us after all of that! So we decided to wait until the next night for silly pics.
Mimi is done with her Antibiotic & Tramadol. She is still limping quite severely-- Keeping the forearm almost parallel w/ the floor most of the time. But periodic galloping makes us question the limp? The paw still turns inward, but not as far.
Please consider donating towards her care. No amount is ever too small. Thank you for your continuous support!
---
Posted on September 29, 2017
Mimi thanks everyone for the continued thoughts and prayers- and more importantly the donations! She spent Wednesday enjoying the "good drugs". Funny story- when the foster family took her outside to try to potty she was like a drunk 21 year old and swaying everywhere. She was finally able to get her sea legs and dared to try to run off! Little stinker. We uploaded a new video showing her walking on her "new" leg. Please consider making a donation toward her future surgeries.
---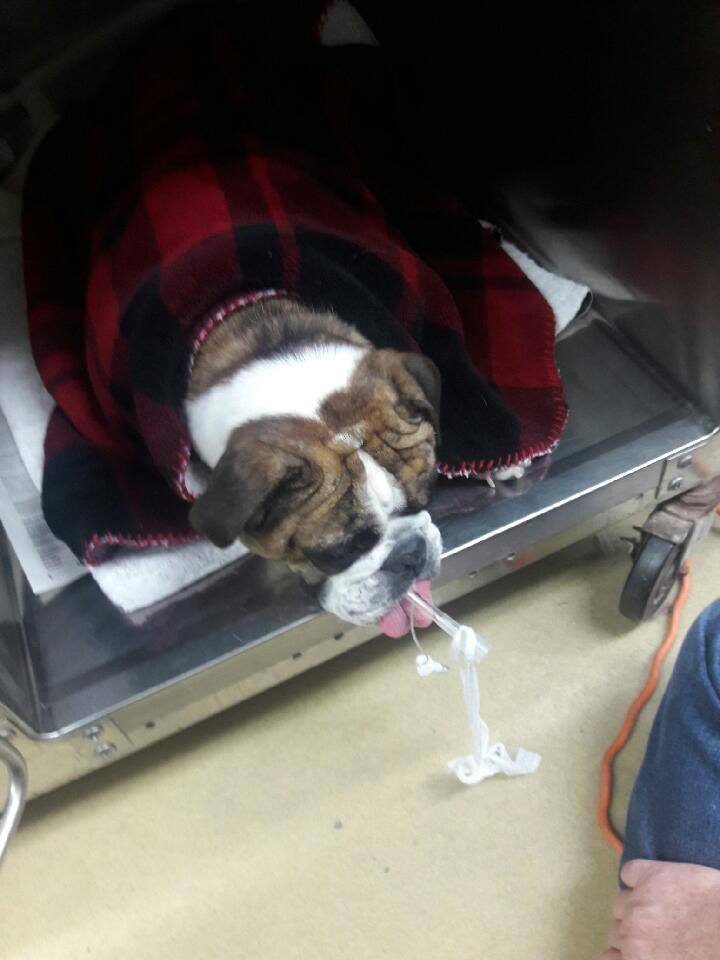 Posted on September 28, 2017
Mimi is out of surgery and awake. Dr. Holt was very pleased with how well the surgery went . Mimi will be allowed to start walking immediately, if we can convince her foster Dad to quit carrying her! She will have the pins in for 6-8 weeks with weekly bandage changes. At that time we will re-evaluate and determine what the next surgery will be. Thank you so much for all the thoughts and prayers and donations!
---
Posted on September 25, 2017
After consulting with the best orthopedic surgeons, We have decided to use Dr. Holt because of his knowledge of Bulldogs and their special needs. Dr Holt is going to start with the area above her "wrist" and cut out a wedge shaped section of the 2 forearm bones. then he will rotate the foot and pin/screw/stabilize the foot and the joint. This has several benefits over full amputation of the left leg. 1. It allows her to keep the leg. 2. it makes the limb more solid 3. It may allow the elbow to fuse. This will be the first of at least 2 surgeries (possibly up to 4 or more). When she has the pins removed in 6-8 weeks we will spay her and do some dental work and re-evaluate the leg to determine the next course of action.
Mimi has surgery Wednesday morning at 9 am. Please keep her in your thoughts!
Sorry! Something went wrong. Request can not be accepted.