Explore

DONATE TO YOUR WEEKLY WISH

Multiple surgeries needed to help mimi walk

$2,005.00/$4,000.00 Raised
---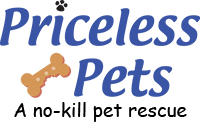 Priceless Pet Rescue
Priceless Pet Rescue is a private 501(c)3 nonprofit organization dedicated to stopping the killing of adoptable dogs and cats. Priceless Pets is leading the no-kill movement by energizing the public and maintaining comprehensive, innovative,life-saving programs designed to save the animals most likely to be euthanized in shelters.
In 2007, Priceless Pets embarked on the mission of saving one by one until there are none. Starting as a foster based rescue, Priceless Pets has grown over the years and now operates out of two storefront adoption centers known as The Orphanage.
Priceless Pets is dedicated to working tirelessly until our mission is complete.
Sunny Day is a remarkable animal who has lived through a life of pain, abuse, and most of all confusion.
A local police department responded to a concerned neighbor who was hearing screams of pain from his neighbors back yard for multiple days in a row. When he looked to see what was happening next door he was compelled to help and jumped into action. This good samaritan began video taping and called the police to report animal neglect. When the first responders arrived and reviewed the witness' video, the suspect was arrested on the spot for animal cruelty. The neighbor caught scenes of abuse that were so bad that when the defendant's girlfriend saw the video in the court room - she screamed and started sobbing.
Sunny Day's abuser left her blind. He left her with scaring from scalding water across her body. But most of all, he left his loyal companion, the dog who swore to protect him in all situations, confused, alone, and scared.
What he didn't do, though, is he didn't take away her zest for life and her trust of humans. He didn't take away her second chance and that is just why we are here! Thanks to her amazing foster home, advocates at the police department, and animal control, medical support team, and Priceless Pets - she is safe, and is free of all abuse, neglect and fear of the days to come. We determined Sunny Day was the perfect name for her, as we can promise her that all that is to come are Sunny Days ahead.
Please consider making a donation to her medical care, as well as for her "halo" she will receive to help her adapt to now being blind. This sweet girl is also looking for a forever family of her own, if that is you - please send us an email or visit our website.
Sorry! Something went wrong. Request can not be accepted.